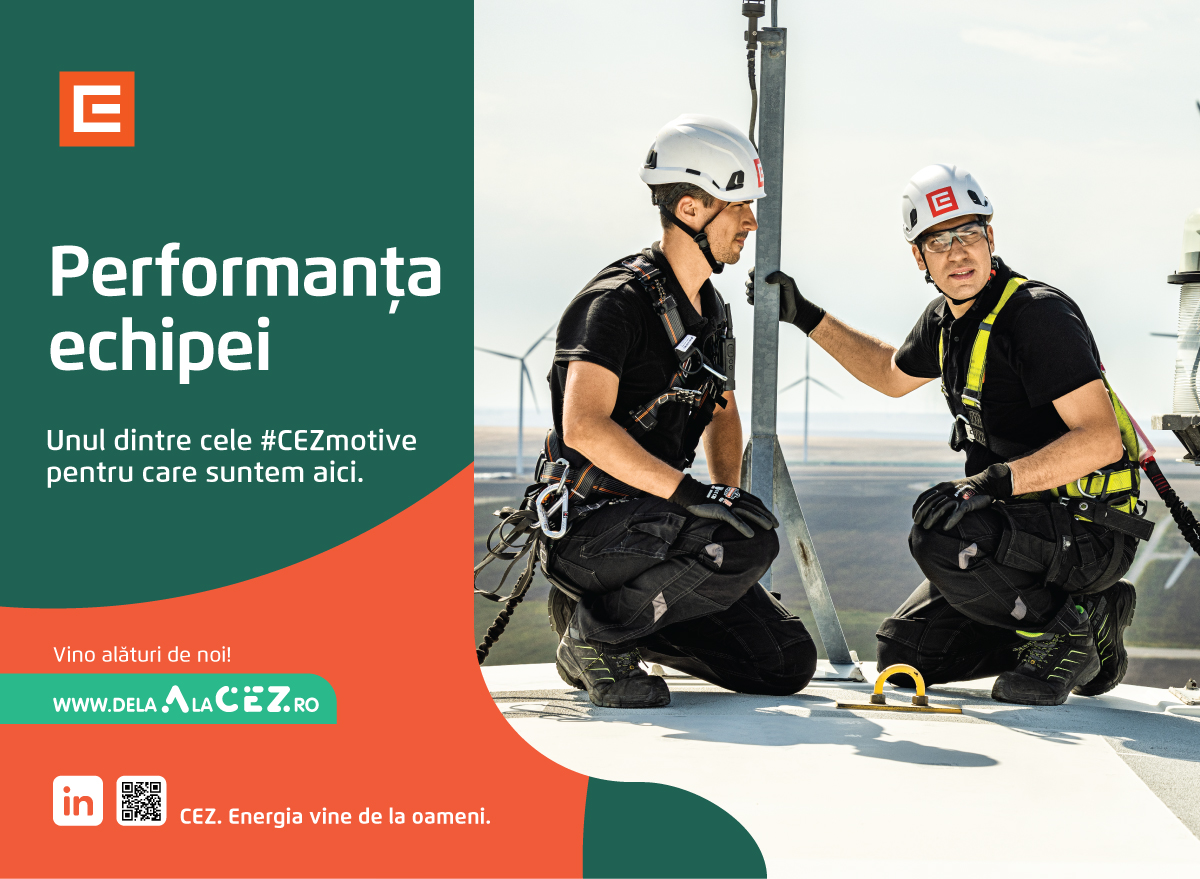 Rogalski Damaschin signs CEZ Group's first employer brand campaign in Romania
Rogalski Damaschin signs CEZ Group's first employer brand campaign in Romania
Rogalski Damaschin signs the new employer brand communication platform launched by the CEZ Group in Romania, one of the leaders of the production, distribution and energy supply market in Romania, with a team of almost 2,000 employees.
"From CEZ reasons, energy comes from people" emphasizes CEZ people and their motivations to be part of the group – motivations reflected in the TV, outdoor and online campaign executions, but also in the detailed "Alphabet of reasons from A to CEZ" on the campaign website, www.delaAlaCEZ.ro.
The TV campaign tells the real stories of people from CEZ and Distribuție Oltenia teams, from three different areas of activity: wind energy production, energy distribution and the specialists who change the future through innovative strategies and ideas. In the three stories, CEZ employees are united not only by the power of nature, but also by the power of the united team and its performance. 
One of the spots of the campaign, filmed in the CEZ Wind Park at Fântânele-Cogealac, features as protagonists the very people who obtained the first innovation patent of the CEZ Group in Romania for a solution that allows maximum wind capture. 
"Why join our team? From CEZ reasons… This is our answer to those who are curious to know what life is like with us, what our people are like, what are the values ​​that brought us together and how we always manage to be one step ahead, even in the face of day-by-day challenges. The campaign tells the story of the brand through the voices of our own colleagues, offering credibility and inspiration to our future colleagues", said Angelica Răducanu, Chief People & Brand Officer, CEZ Romania.
"Working alongside CEZ Romania for almost 10 years, we often feel part of the team. We understand the specifics of the industry and have had the opportunity, at various key moments, to be in contact with the entire organizational culture of the Group. I thus understood that people are primarily proud and motivated by the profession they have, by authenticity and trust in those they work with every day. And in a company that values ​​the energy that comes from people every day, from CEZ reasons is a natural approach and a detailing of the motivations behind this special energy", declared Alina Damaschin, Creative Partner, Rogalski Damaschin.
The campaign was created by Rogalski Damaschin together with CEZ team and produced by StudioSet, directed by Anton Groves.